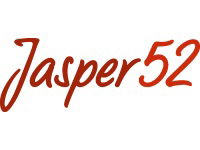 Weekly Auctions of Exceptional Items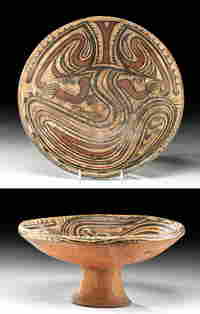 Panamanian Cocle Polychrome Pedestal Bowl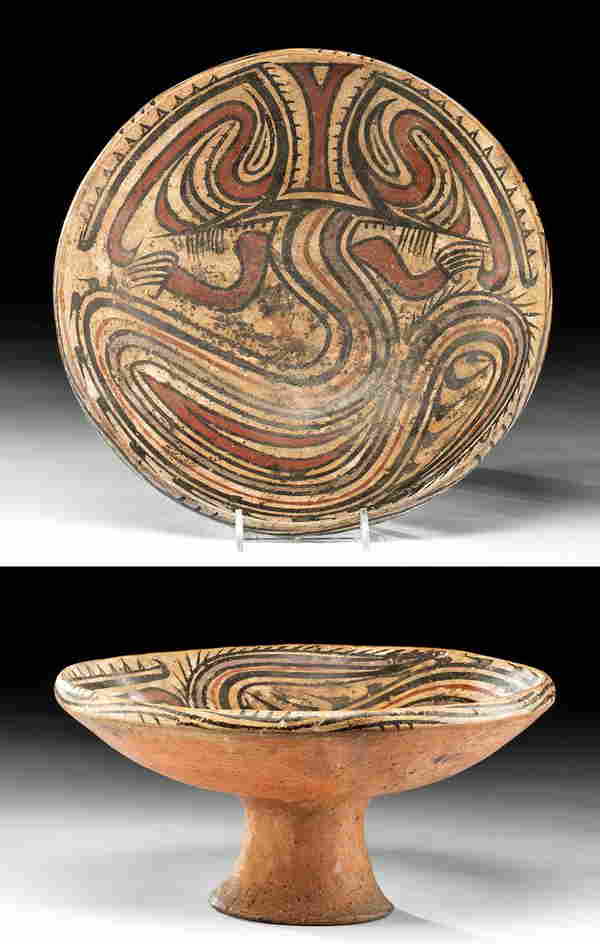 Lot 0106C Details
Description
Pre-Columbian, Central America, Panama, Cocle, ca. 500 to 1000 CE. A beautiful Cocle pedestal vessel of a classic design comprised of an ample bowl rising from an integral, concave, flared pedestal base. From tondo to rim, the bowl is finely decorated with a highly abstract saurian (lizard) motif, characteristic of the Cocle, all delineated in red, purple, and black - the purple indicative of the Macaracas style. Staccato black marks represent the saurian's barbs or scales and also suggest movement and kinetic energy. Furthermore, the double-headed conjoined form reflects the Cocle's belief in nature's dualities - the fact that all beings embody both positive and negative energies. This philosophy that embraces the 'union of opposites' has traditionally been fundamental to shamanic practices in Panama and other regions of Meso-America. Size: 10.625" W x 5.3" H (27 cm x 13.5 cm)

According to scholar Samuel Kirkland Lothrop, "The Gran Cocle culture is a Pre-Columbian archaeological culture that gets its name from the area from which it was based, the now present-day Cocle province of Panama. The Gran Cocle term applies to a loosely studied group of Native American sub-cultures in this region, identified by their pottery styles. The overall period spans a time from 150 B.C. to the end in the 16th century A.D. upon Spanish contact. The most ancient culture is the La Mula period from 150 B.C. to 300 A.D. The La Mula and later Monagrillo and Tonosi pottery styles are identified by their the use of three paint colors which were black, red and white (or cream). The later Cubita style saw the emergence of the use of four colors. The styles of Conte, Macaracas and Joaquín added purple to their palette and this hue ranged from grayish tones to red purple. The use of purple disappeared in the subsequent styles of Parita and El Altillo and the paint style reverted back to the use of three colors. Most notable in the artistic renderings are the overt use of geometric designs." (For more information, see Armand Labbe, "Guardians of The Life Stream: Shamans, Art and Power in Prehispanic Central Panama" - Bowers Museum of Cultural Art, University of Washington Press, 1995.)

Provenance: ex-Barakat Gallery, Beverly Hills, California, USA, acquired prior to 2000

All items legal to buy/sell under U.S. Statute covering cultural patrimony Code 2600, CHAPTER 14, and are guaranteed to be as described or your money back.

A Certificate of Authenticity will accompany all winning bids.

We ship worldwide to most countries and handle all shipping in-house for your convenience.

#153786
Condition
Professionally repaired from about 4 to 6 large pieces with some touch up to pigment over the break lines. Wonderful manganese blooms grace the surface.
Shipping, Payment & Auction Policies
Ships from
Louisville, CO, United States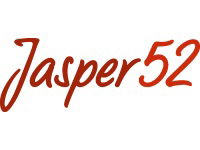 www.liveauctioneers.com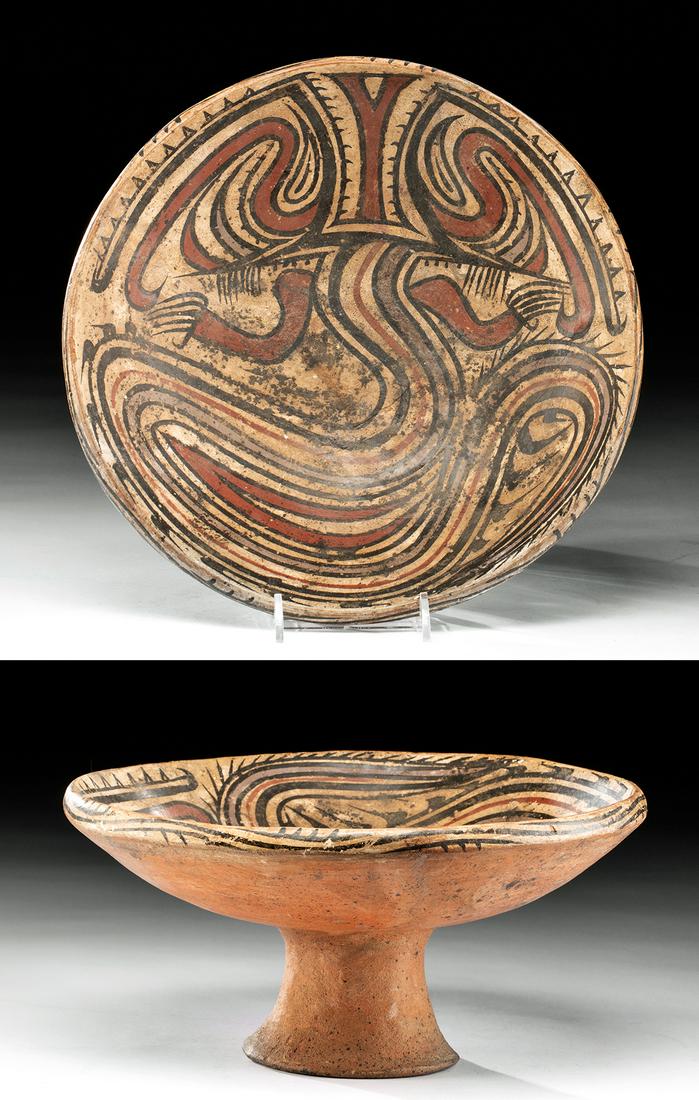 0106C: Panamanian Cocle Polychrome Pedestal Bowl
Est.

$1,800

-

$2,500
•
Starting Price

$1,200
Ancient / Ethnographic Around The World
Thu, Mar 12, 2020 10:00 AM EDT
Buyer's Premium 24.5%
Lot 0106C Details
Description
Pre-Columbian, Central America, Panama, Cocle, ca. 500 to 1000 CE. A beautiful Cocle pedestal vessel of a classic design comprised of an ample bowl rising from an integral, concave, flared pedestal base. From tondo to rim, the bowl is finely decorated with a highly abstract saurian (lizard) motif, characteristic of the Cocle, all delineated in red, purple, and black - the purple indicative of the Macaracas style. Staccato black marks represent the saurian's barbs or scales and also suggest movement and kinetic energy. Furthermore, the double-headed conjoined form reflects the Cocle's belief in nature's dualities - the fact that all beings embody both positive and negative energies. This philosophy that embraces the 'union of opposites' has traditionally been fundamental to shamanic practices in Panama and other regions of Meso-America. Size: 10.625" W x 5.3" H (27 cm x 13.5 cm)

According to scholar Samuel Kirkland Lothrop, "The Gran Cocle culture is a Pre-Columbian archaeological culture that gets its name from the area from which it was based, the now present-day Cocle province of Panama. The Gran Cocle term applies to a loosely studied group of Native American sub-cultures in this region, identified by their pottery styles. The overall period spans a time from 150 B.C. to the end in the 16th century A.D. upon Spanish contact. The most ancient culture is the La Mula period from 150 B.C. to 300 A.D. The La Mula and later Monagrillo and Tonosi pottery styles are identified by their the use of three paint colors which were black, red and white (or cream). The later Cubita style saw the emergence of the use of four colors. The styles of Conte, Macaracas and Joaquín added purple to their palette and this hue ranged from grayish tones to red purple. The use of purple disappeared in the subsequent styles of Parita and El Altillo and the paint style reverted back to the use of three colors. Most notable in the artistic renderings are the overt use of geometric designs." (For more information, see Armand Labbe, "Guardians of The Life Stream: Shamans, Art and Power in Prehispanic Central Panama" - Bowers Museum of Cultural Art, University of Washington Press, 1995.)

Provenance: ex-Barakat Gallery, Beverly Hills, California, USA, acquired prior to 2000

All items legal to buy/sell under U.S. Statute covering cultural patrimony Code 2600, CHAPTER 14, and are guaranteed to be as described or your money back.

A Certificate of Authenticity will accompany all winning bids.

We ship worldwide to most countries and handle all shipping in-house for your convenience.

#153786
Condition
Professionally repaired from about 4 to 6 large pieces with some touch up to pigment over the break lines. Wonderful manganese blooms grace the surface.
Contacts
Artemis Gallery
720.890.7700
686 S. Taylor Avenue Suite 106
LiveAuctioneers Support
info@liveauctioneers.com