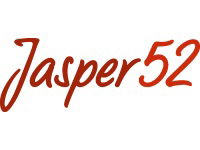 Weekly Auctions of Exceptional Items
CHINA ND(1913) Yuan Shi Kai 10 Cash Copper Pattern
Don't Miss Your Next Treasure.
Set up a search alert to hear when Copper Coins, Currency & Stamps items arrive.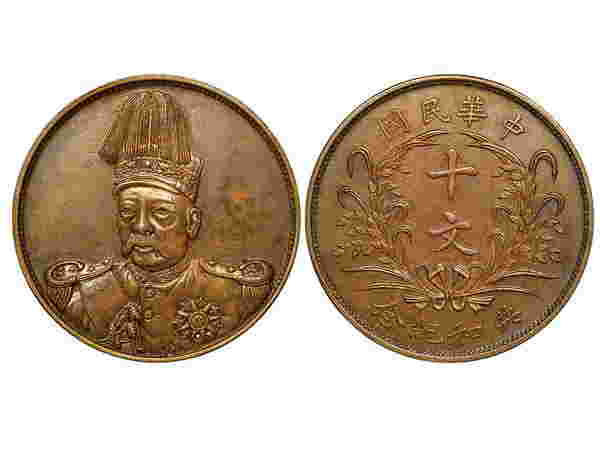 Lot 0328 Details
Description
CHINA-REPUBLIC ND(1913) Yuan Shi Kai 10 Cash Copper Pattern, Yuan of large face, NGC MS63BN, Extremely Rare, NC Collection
The Yuan Shih Kai Portrait 10 Cash Coins

By Bruce W. Smith

The Yuan Shih-kai silver dollar struck in 1914 at the Tientsin Mint with a portrait of President Yuan wearing a military uniform and tall feathered hat is a handsome and popular coin. Less well known and much rarer are the 10 cash copper coins with the same design. Most Chinese catalogs say the copper coins were made at Tientsin in either 1912 or 1914. The facts, however, are that these 10 cash were not made in 1912 or 1914 and they were not made at the Tientsin Mint.
Writing in his 1917 work, "Coins of the Republic of China", Guiseppe Ros clearly states that these 10 cash coins were struck at the Wuchang Mint. He lists two varieties. In one, the medal on Yuan's uniform is much larger and the portrait slightly different. On the reverse, the wreaths are also slightly different. Catalogs call the varieties "small face" and "large face" but it is much easier to identify them by the reverse designs. Ros number 24 (small face; Woodward 971 dies A/1; CCC 688) has on the reverse thin leaves which cross each other outside the wreath. The other variety Ros 23 (large face; W. 972 dies B/2; CCC 690) lacks the crossed leaves but can be identified by several hook-shaped leaves inside the wreath.

According to Ros, the crossed leaves variety (W.971; CCC 688) was struck in small numbers and distributed to officials. This piece was engraved by Chu Tzu-fang, who also engraved the dies for both of the Li Yuan-hung dollars (with and without cap). Weighing 7.0 to 7.3 grams, Woodward rated this piece RARE in 1933. In his earlier article, "The Influence of Yuan Shih-kai on Chinese Coins", published in 1922, he notes that an official at Nanking informed him that the mintage of the piece distributed to officials was 50,000 pieces. Woodward says the coin was fairly easy to obtain in 1922 but was highly regarded by the Chinese and was rapidly disappearing from the market. Based on the number of these coins seen at auction in the past 70 years (16 pieces, some of them probably the same coin) this number is clearly inflated.

The hooked leaves variety (W. 972; CCC 690) was engraved by Wang Shao-hsien, but was not struck in quantity because the medal on Yuan's chest was considered too large. Weighing 6.1 to 7.0 grams, Woodward rated this coin EXTREMELY RARE. I have recorded five sales (but only three different coins) of this variety in the past 70 years.

Cheng Jen-chieh's 1997 catalog, "Chinese Copper Coins" (Chung KuoT'ung Yuan Chien Shang), records two addition varieties of the Yuan Shih-kai 10 cash not cataloged elsewhere. The first (CCC 689) is the crossed leaves variety struck in white copper. The second is a piece with reverse similar to the crossed leaves variety, but with a different portrait of Yuan. This coin (CCC 691) has a more poorly engraved portrait than the other two varieties but can be instantly recognized by the cross inside Yuan's medal.

As to when these coins were made, Ros provides a clue. He states that work on the coins stopped "after the departure of the then vice president Li for Peking." Early in 1912 there were actually three revolutionary governments in China. One, centered around Sun Yat-sen, was at Nanking. This is why the first Sun Yat-sen coins were struck at the Nanking Mint in 1912. The second was led by Li Yuan-hung, whose power base was at Wuchang. This is why the Li Yuan-hung dollars were made at the Wuchang Mint in 1912. The third was Yuan Shih-kai's government at Peking. Unfortunately for Yuan the Tientsin Mint was looted and destroyed early in 1912 and this is why there is no 1912 dollar for Yuan. The Tientsin Mint did not get into production till 1914, at which time Tientsin made the Yuan dollar with high hat, and late in the year, the standard dollar with Yuan's profile portrait and Year 3 date.

Initially Li Yuan-hung did not want to be connected with the revolutionary movement. After Wuchang had been captured by revolutionaries, they wanted to make Li head of the government, but he went into hiding. When he was found, he reluctantly accepted the office. After Sun stepped down in favor of Yuan Shih-kai, Li was made vice president, but he refused to leave Wuchang. He was eventually persuaded to go to Peking and left Wuchang in December 1913. From this we can see that the Yuan Shih-kai 10 cash coins were made late in 1913.

From 1914 into the 1920's, the standard Yuan Shih-kai portrait coins were struck in silver at various mints in denominations of 10, 20, 50 cents and one dollar. Pattern gold coins with Yuan's portrait were struck in 1919 and pattern nickel 5 cent coins were struck in 1914, but for reasons unknown, no Yuan portrait coins were struck in copper for circulation.

KNOWN SALES OF YUAN SHIH-KAI 10 CASH COINS

CCC 690 – Woodward 972 Large Medal – Hooked Leaves Variety

1) Money Company September 1983: 525 UNC ----- same coin in:

Stacks Ponterio December 2010: 75 Wa She Wong Collection #1 NGC UNC details, sold 83,650 USD.

2) Money Company September 1983: 526 VF ----- same coin in:

Stacks Ponterio August 2011: 70430 Wa She Wong Collection #2 NGC XF details, sold 65,725 USD.

3) Baldwin Ma August 2008: 596 Norman Jacobs Collection NGC MS63, sold 5428 USD to Ho Collection
CHINA ND(1913) Yuan Shi Kai 10 Cash Copper Pattern
Estimate $30,000 - $60,000
Mar 28, 2015
Shipping, Payment & Auction Policies