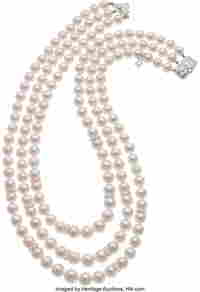 55051: Mikimoto Cultured Pearl, Diamond, White Gold Ne
Sold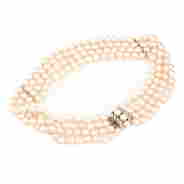 2019
Mikimoto Cultured Pearl, Diamond, 14k White Gold
See Sold Price
Sold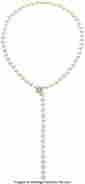 2020
55065: Cultured Pearl, Diamond, White Gold Necklace, Mi
See Sold Price
Sold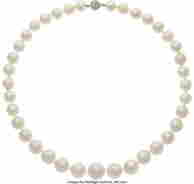 2022
55433: South Sea Cultured Pearl, Diamond, White Gold Ne
See Sold Price
Sold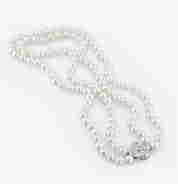 2022
An 18K white gold, cultured pearl and diamond necklace, Mikimoto
See Sold Price
Sold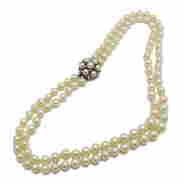 2016
Cultured Pearl Diamond 14K White Gold Two Strand Neckla
See Sold Price
Sold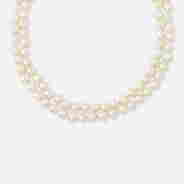 2022
Cultured pearl, diamond, and white gold necklace
See Sold Price
Sold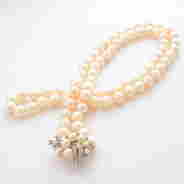 2016
Cultured Pearl, Diamond, 14k White Gold Necklace
See Sold Price
Sold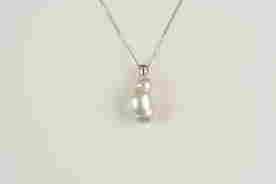 2020
South Sea Cultured Pearl, Diamond, 14k White Gold
See Sold Price
Sold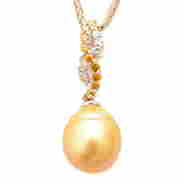 2017
Cultured Pearl, Diamond, 18k White Gold Pendant
See Sold Price
Sold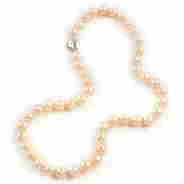 2021
Pink Freshwater Cultured Pearl, Diamond, 14k White Gold
See Sold Price
Sold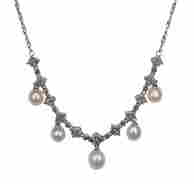 2015
Cultured pearl, diamond and 14k white gold necklace
See Sold Price
Sold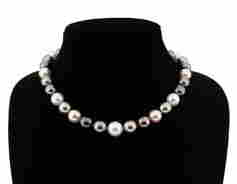 2022
SOUTH SEA CULTURED PEARL, DIA. & 18K NECKLACE
See Sold Price
Sold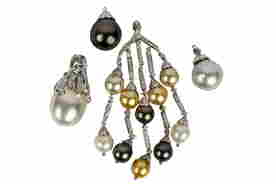 2020
FOUR 18 KARAT WHITE GOLD, DIAMOND, & CULTURED PEARL
See Sold Price
Related Necklaces & Pendants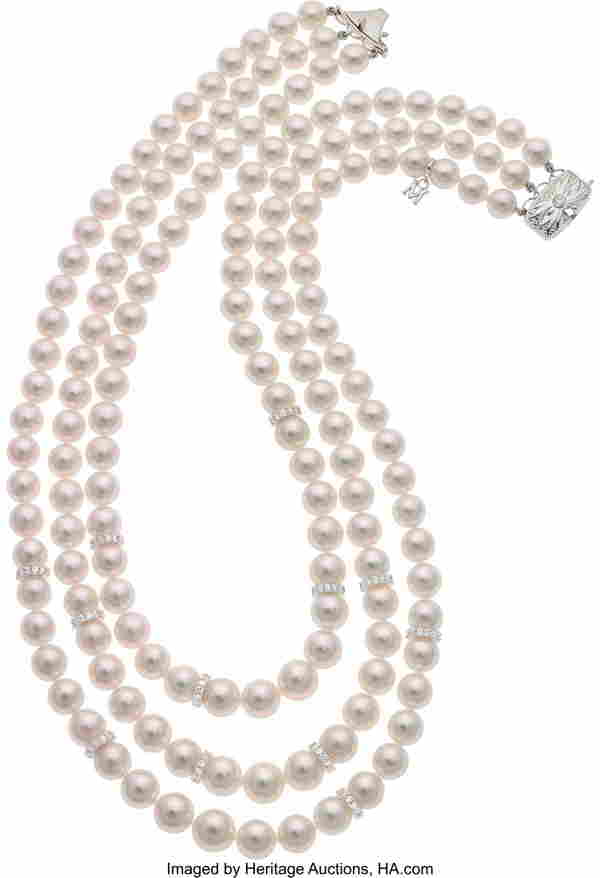 Item Details
Description
Mikimoto Cultured Pearl, Diamond, White Gold Necklace Stones: Full-cut diamonds weighing a total of 2.40 carats Pearls: Cultured pearls measuring 7.00 mm - 9.50 mm Metal: 18k white gold Marked: for Mikimoto Gross Weight: 122.40 grams Length: 15 inches - 18 inches 2016 Retail Replacement Value - $21,610 HID03101062020 © 2022 Heritage Auctions | All Rights Reserved
Condition
Diamonds:
Avg Color: G-H-I
Avg Clarity: VS
Shape(s): Full
Count: 100+

Pearls:

Pearl: 1
Type: Akoya
Shape: Round
Color: White
Overtone: Rose
Luster: Fine
Surface: Smooth
Count: 163
Size: 7.00 - 9.50 mm


Metals:
Gold

Overall Condition: Very Good
Condition Notes: Maker's mark for Mikimoto, 750, "M" charm. Accompanied by a copy of a Certificate for Retail Replacement Valuation dated November 17, 2016.
Heritage Auctions strongly encourages in-person inspection of items by the bidder. Statements by Heritage regarding the condition of objects are for guidance only And should Not be relied upon as statements of fact, And do Not constitute a representation, warranty, Or assumption of liability by Heritage. All lots offered are sold "As Is"

Buyer's Premium per Lot:
25% on the first $300,000 (minimum $49), plus 20% of any amount between $300,001 and $3,000,000, plus 15% of any amount over $3,000,001 per lot.
Buyer's Premium
25% up to

$300,000.00

20% up to

$3,000,000.00

15% above

$3,000,000.00
55051: Mikimoto Cultured Pearl, Diamond, White Gold Ne
Shipping, Payment & Auction Policies
Ships from Dallas, TX, United States
Auction Curated By
Jill Burgum
Senior Director, Fine Jewelry, Dallas
Jessica Dubroc
Director, Fine Jewelry, New York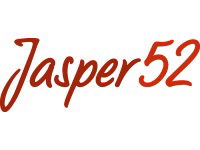 www.liveauctioneers.com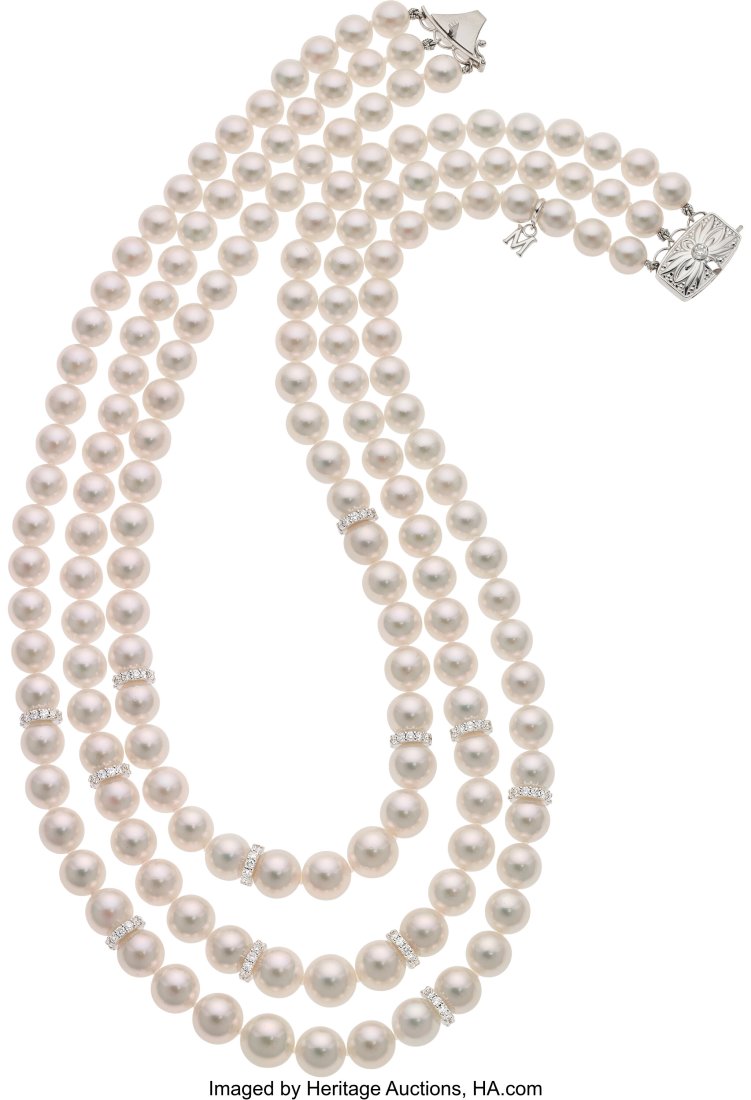 55051: 55051: Mikimoto Cultured Pearl, Diamond, White Gold Ne
Est.

$5,000

-

$7,000
•
Starting Price

$2,400
Fall Fine Jewelry - #5533
Sep 29, 2022 11:00 AM EDT
Buyer's Premium 25%
Description
Mikimoto Cultured Pearl, Diamond, White Gold Necklace Stones: Full-cut diamonds weighing a total of 2.40 carats Pearls: Cultured pearls measuring 7.00 mm - 9.50 mm Metal: 18k white gold Marked: for Mikimoto Gross Weight: 122.40 grams Length: 15 inches - 18 inches 2016 Retail Replacement Value - $21,610 HID03101062020 © 2022 Heritage Auctions | All Rights Reserved
Condition
<b>Diamonds:</b><br />Avg Color: G-H-I<br />Avg Clarity: VS<br />Shape(s): Full<br />Count: 100+<br /><br /><b>Pearls:</b><br /><br />Pearl: 1<br />Type: Akoya<br />Shape: Round<br />Color: White<br />Overtone: Rose<br />Luster: Fine<br />Surface: Smooth<br />Count: 163<br />Size: 7.00 - 9.50 mm<br /><br /><br /><b>Metals:</b><br />Gold<br /><br /><b>Overall Condition:</b> Very Good<br /><b>Condition Notes:</b> Maker's mark for Mikimoto, 750, "M" charm. Accompanied by a copy of a Certificate for Retail Replacement Valuation dated November 17, 2016.<br> Heritage Auctions strongly encourages in-person inspection of items by the bidder. Statements by Heritage regarding the condition of objects are for guidance only And should Not be relied upon as statements of fact, And do Not constitute a representation, warranty, Or assumption of liability by Heritage. All lots offered are sold "As Is"<br><br>Buyer's Premium per Lot:<br />25% on the first $300,000 (minimum $49), plus 20% of any amount between $300,001 and $3,000,000, plus 15% of any amount over $3,000,001 per lot.
Heritage Auctions
214.528.3500
LiveAuctioneers Support
info@liveauctioneers.com