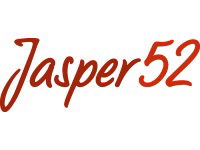 Weekly Auctions of Exceptional Items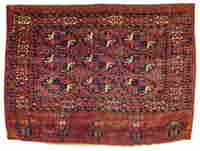 Göklen Chuval
Sold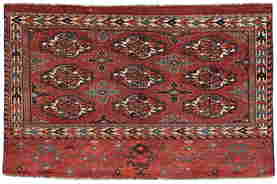 2021
Yomut Chuval
See Sold Price
Sold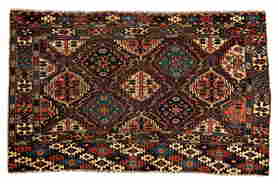 2021
Chodor Chuval
See Sold Price
Sold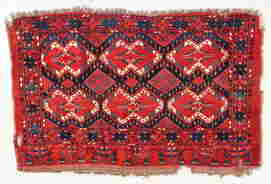 2021
Beshir Chuval, Middle Amu Darya, Circa 1880, 4'4'' x
See Sold Price
Sold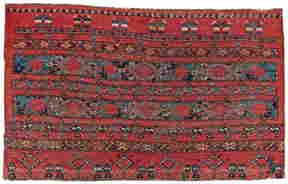 2021
Ersari Chuval
See Sold Price
Sold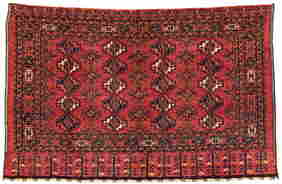 2021
Large Ersari Chuval
See Sold Price
Sold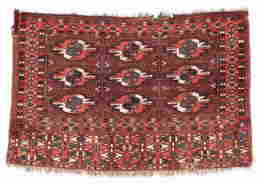 2021
Yomud Chuval, Turkmenistan, 19th C., 3'8'' x 2'4''
See Sold Price
Sold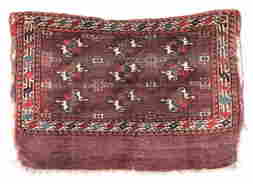 2021
Yomud Chuval, Turkmenistan, Mid 19th C., 3'10'' x 2'7''
See Sold Price
Sold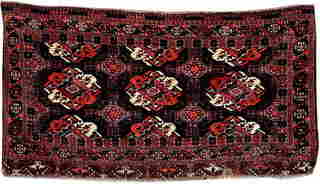 2015
Arabachi 'Chuval', Turkmenistan, 19th century
See Sold Price
Sold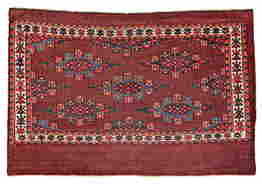 2018
Yomut Chuval
See Sold Price
Sold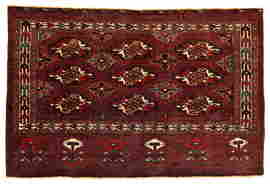 2021
Igdir Chuval
See Sold Price
Sold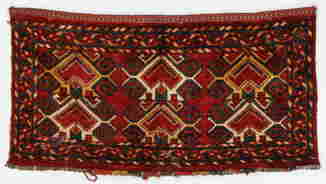 2021
Ersari Chuval, Turkmenistan, Late 19th C., 23'' x 44''
See Sold Price
Sold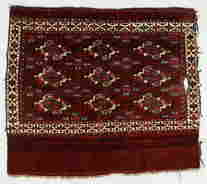 2021
Yomud Chuval, Turkmenistan, Mid 19th C., 3'3'' x 2'10''
See Sold Price
Sold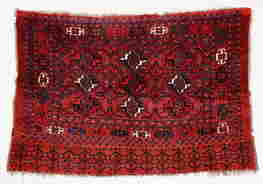 2021
Ersari Chuval Rug, Turkmenistan, Circa 1900, 4'6'' x
See Sold Price
Sold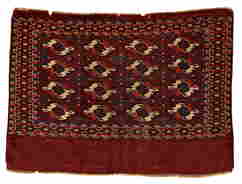 2021
Yomut Chuval
See Sold Price
Sold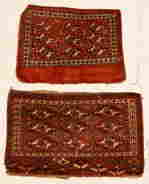 2015
2 Antique Yomud Chuval Rugs
See Sold Price
Sold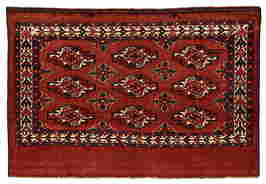 2021
Karadashli Chuval
See Sold Price
More Items in Rugs & Carpets
View More
Jul 06, 2022
Antique Chinese Handwoven Wool Carpet
Jul 10, 2022
19th Century Chinese Peking Scenic Wool Rug
Jul 06, 2022
Wool Tribal Rug
Jul 06, 2022
Persian Wool Rug
Jul 06, 2022
Silk Persian Rug
Jul 06, 2022
Bokhara Wool Rug
Jul 06, 2022
Large Wool Room Size Carpet
Jul 06, 2022
Persian Wool Runner 19'
Jul 06, 2022
Large Tribal Handwoven Carpet with Wear
Jul 06, 2022
Wool Tribal Rug
Jul 06, 2022
Persian Rug 9'8" x 13"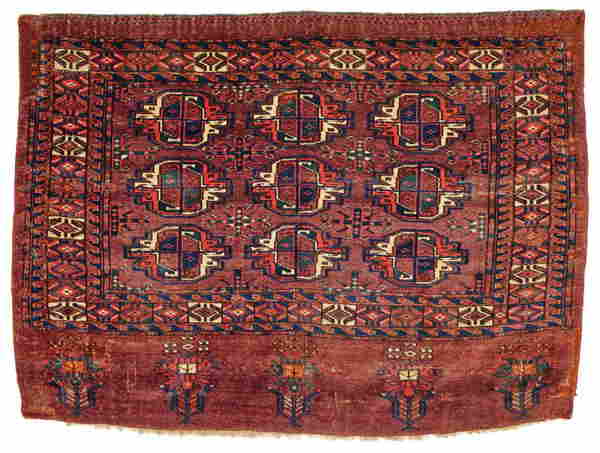 Item Details
Description
third quarter 19th century, 84 x 113 cm, Central Asia, South West Turkestan
An Eagle Group 2 chuval woven by the Göklen Turkmen in a design of nine large primary motifs and chemche secondary güls. The main border is decorated with small diamonds (probably highly abstract flowers), and the guard borders show reciprocal wavy lines (running dog). The five large flowering plants drawn in a distinctive style are one of the identifying features of these chuvals, as is the high format. – Signs of age and wear, low spots in the pile, all four corners have been restored, the kilim back has not survived.
RIPPON BOSWELL, A 62, Pinner Collection, 15 May 2004, lot 79 *** RAUTENSTENGEL, ANNETTE & VOLKER & AZADI, SIAWOSCH, Studien zur Teppich-Kultur der Turkmen. Hilden 1990, ill. 24 ***PINNER, ROBERT & EILAND, MURRAY L. Jr., Between the Black Desert and the Red. Turkmen Carpets from the Wiedersperg Collection. San Francisco 1999, pl. 30 *** LANGAUER, UDO, Turkmen Collection 2011. Vienna 2011, ill. p. 37
Shipping, Payment & Auction Policies
Ships from Wiesbaden, Hessen, Germany
Local Pick-Up Wiesbaden, HESSEN, Germany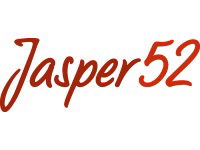 www.liveauctioneers.com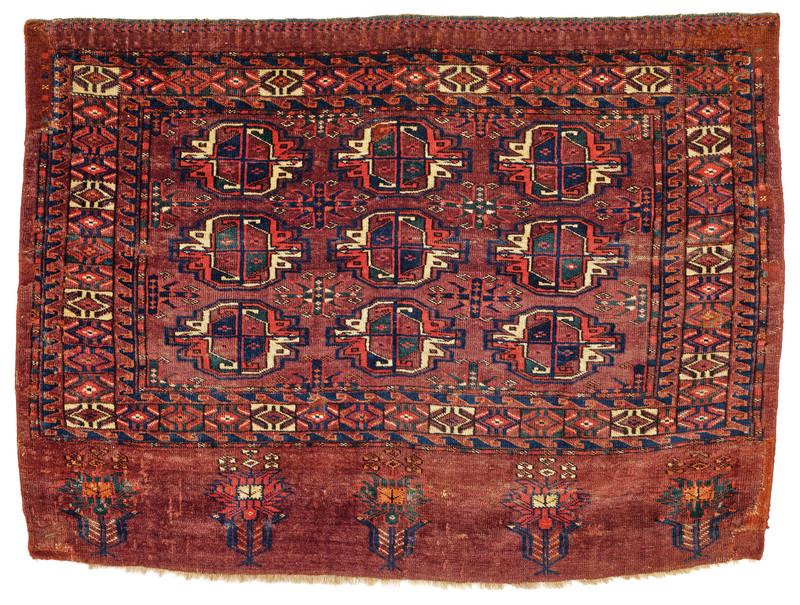 0138: Göklen Chuval
Est.

€1,800

-

€2,400
•
Starting Price

€1,500
Antique Rugs & Carpets
May 28, 2022 9:00 AM EDT
Buyer's Premium 29%
Lot 0138 Details
Description
third quarter 19th century, 84 x 113 cm, Central Asia, South West Turkestan



An Eagle Group 2 chuval woven by the Göklen Turkmen in a design of nine large primary motifs and chemche secondary güls. The main border is decorated with small diamonds (probably highly abstract flowers), and the guard borders show reciprocal wavy lines (running dog). The five large flowering plants drawn in a distinctive style are one of the identifying features of these chuvals, as is the high format. – Signs of age and wear, low spots in the pile, all four corners have been restored, the kilim back has not survived.



RIPPON BOSWELL, A 62, Pinner Collection, 15 May 2004, lot 79 *** RAUTENSTENGEL, ANNETTE & VOLKER & AZADI, SIAWOSCH, Studien zur Teppich-Kultur der Turkmen. Hilden 1990, ill. 24 ***PINNER, ROBERT & EILAND, MURRAY L. Jr., Between the Black Desert and the Red. Turkmen Carpets from the Wiedersperg Collection. San Francisco 1999, pl. 30 *** LANGAUER, UDO, Turkmen Collection 2011. Vienna 2011, ill. p. 37
Contacts
RIPPON Boswell & Co., International Auctioneers
+49 611 33 44 30
LiveAuctioneers Support
info@liveauctioneers.com