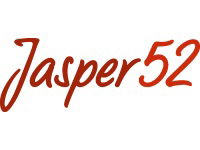 Weekly Auctions of Exceptional Items
Upcoming Auctions
Reviews
Past Auctions
Record Results
Bidder Reviews for Jasper52 (4,990)
8 Latest ReviewsSee All
Steve
Grosse Ile, Michigan
Jasper52 delivers on every level!
Very professional!
David
Coushatta, Louisiana
Great experience with Jasper 52
My item arrived well packaged and the shipping fee was great. I would love to bid on any of these folks auctions. AAAAA
Judy
Pittsburgh, Pennsylvania
Very prompt shipping.
Received it from Europe, safely packaged, sooner than many transactions in the states.
Anthony
New Orleans, Louisiana
extreme value for the $$$
Great quality image and correctly discribed
Herbert
Wilmington, North Carolina
Dependable, well-managed auction
I have found Jasper52 to be a dependable, honest auctions service. Shipping charges in particular seem to be among the lowest of any auctions I'm aware of. A favorite auction company for me.
yves
St-augustin De Desmaures, Canada