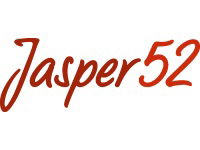 Weekly Auctions of Exceptional Items
Upcoming Auctions
News
Reviews
Past Auctions
Record Results
Bidder Reviews for Jasper52 (5,050)
8 Latest ReviewsSee All
Michael
Voorheesville, New York
A transaction without issue-a good thing.
There were not problems, and I like the fact that they ship in-house.
Jasper52 Jollies!
I have bid & won numerous items from Jasper52. They are a joy to deal with. The bidding process is exciting, particularly when you win a longed for item. I have done all my Christmas shopping & I will have very happy friends. Thank you for making this process faultless. Always quality & sensational goodies. Thank you. Cleo
Susanna H.
Virginia Beach, Virginia
Quality items with INCLUDED Certificate
Unlike another auction house I had the displeasure of winning items from, this auction house delivers quality items with official certificates of authenticity. No ridiculous memberships or payments required for certificates.
James
San Rafael, California
Excellent
Excellent experience, exceeding my expectations.
David
Coushatta, Louisiana
Well packaged and delivered on time
I love my product it was just what I was looking for
Nice communication. very reactive.. despite the time decalage between Usa! and Reurop in my case.
Nice experience. nice communication. very reactiv. despite 6/7 hours difference between Usa/Europe. Best service and very helpful to find solution shipping etc etc