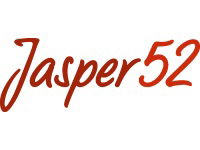 Weekly Auctions of Exceptional Items
Upcoming Auctions
Reviews
Past Auctions
Record Results
Bidder Reviews for Jasper52 (4,824)
8 Latest ReviewsSee All
Robert
Alexandria, Virginia
Quick shipping
Honest seller with quick shipping
Richard John
West Winfield, New York
Accuracy of description of item
I am a repeat buyer. Always pleased with photos and descriptions. I have never been disappointed when I received my won item. Great packing and very efficient shipping. Thank you Jasper 52.
Alan
Hillsborough, New Hampshire
Fair Pricing
Bidders seem in appropriate range
Steven
Plymouth Meeting, Pennsylvania
As described, shipped quickly
I had a question about processing and they responded immediately.
Mauricio
Arkansas City, Kansas
Great seller
Amazing item and a great buying experience.
Mark
Aberdyfi, United Kingdom
Excellent experience all around.
Excellent experience all around.