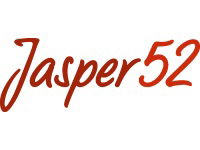 Weekly Auctions of Exceptional Items
Upcoming Auctions
Reviews
Past Auctions
Record Results
Bidder Reviews for Jasper52 (4,783)
8 Latest ReviewsSee All
Vanya
Niagara Falls, New York
David
Broken Arrow, Oklahoma
No hassle online buying
I have bought several things from Jasper 52 over the years. The items have always been exactly as described, payment has been easy, and shipping has been fast, reasonable, and worry free.
Brenda
Guaynabo, Puerto Rico
Items
Exactly what you auction is exactly what you get Excelent! Terrible experience with others If not Jasper 52, no other auction Thank you
Michael
Kansas City, Missouri
The product-the photographs are excellent
the auction is conducted in an understandable manner. Clear, logical, transparent. Very good communication Very good followthrough.
The BEST Auction on LiveAuctioneers!
Another perfect transaction; excellent service! Bid/buy with confidence with Jasper52! AAA + + +!!!
The only problem I have is sometimes I don't receive a tracking number which is very important to me
Awesome experience very accurate grading and great packaging to keep the product safe