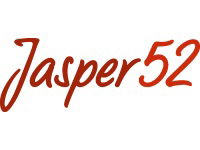 Weekly Auctions of Exceptional Items
Upcoming Auctions
Reviews
Past Auctions
Record Results
Bidder Reviews for Jasper52 (6,353)
8 Latest Top ReviewsSee All
good people to deal with
Great
Cris
New Kensington, Pennsylvania
Good buys
Everything was as expected except the packaging was intensly tight and have to let them air out and straighten again from being packed so tight. But other than that A + +
Margaret
Milton, Massachusetts
Reva
Burlingame, California
Yvonne
Los Angeles, California
Bidders get plenty of time (many fair warnings) before bidding is done.
I appreciate getting detailed background information, including accurate descriptions and photographs of each piece from all angles before the auction begins. Not only is the shipping prompt, the pieces are packaged to insure that items arrive intact.
Alexandra
Westerly, Rhode Island
They made it easy
Jasper52 was perfectly prompt and helpful in communicating with me about shipping and delivering (safely) the items I won at auction.
Sirry
Boston, Massachusetts
Excellent
Super service, excellent and quick and well packaged. Received it with a certificate!
Brass Dolphin Bottle opener.
My total of $17 including taxes and shipping was a great deal. I won a bid on a similar chrome dolphin bottle opener from Benefit House Foundation for $13. However, Benefits provides no services so I had to contact a third party to pick up, pack and ship the item. That cost me another $30 so the chrome opener actually cost $43 vs $17. The biggest difference is how much easier it was doing business with Jasper52.