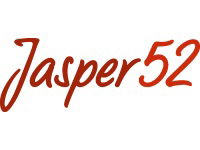 Weekly Auctions of Exceptional Items
Upcoming Auctions
Reviews
Past Auctions
Record Results
Bidder Reviews for Jasper52 (4,994)
8 Latest ReviewsSee All
April
Francesville, Indiana
Superb service
Dealing with Jasper52 during & after auctions are most professional & a joy to receive great quality pieces that you treasure for a very long time. Not enough adjectives to explain how fabulous they are. Also if any problem, they contact directly & sort immediately. Looking forward to bidding again. Thank you. Cleo
Steve
Grosse Ile, Michigan
Jasper52 delivers on every level!
Very professional!
David
Coushatta, Louisiana
Great experience with Jasper 52
My item arrived well packaged and the shipping fee was great. I would love to bid on any of these folks auctions. AAAAA
Judy
Pittsburgh, Pennsylvania
Very prompt shipping.
Received it from Europe, safely packaged, sooner than many transactions in the states.